At Global Capital Finance Solutions, we provide business loans for:
Working capital facilities
Overdraft facilities
Bank term loans
Inventory/Stock finance
Receivables finance and, also Inventory finance, typical cash flow type finances, have become popular methods to fund business growth as these facilities will provide quick cash up front on outstanding invoices.
Receivables finance facilities particularly are well suited to businesses which provide credit terms to other businesses for goods and services on terms of 30, 60 and 90 days before being paid. Under this arrangement your business can receive up to 80% of the value of outstanding invoices upfront; the remaining 20% becomes payable to your business trading account when the customer pays the full invoice(s). There is no minimum annual fee, no real estate security, and no reliance on overdraft facility, with very competitive interest rates and, internet access to the lender's computer for full updates on all aspects of the account.
Inventory Finance provides businesses with a funding line specifically for purchasing its inventory. This is done via setting the client up with a credit facility whereby the lender pays their supplier invoices. At the time of payment, the client nominates a term of 30, 60, 90 or 120 days. During this time the client is not making any repayments, but what they are doing is getting their stock in, turning it over, getting paid by their customers. At the end of the nominated term, they are simply paying the lender back in a lump sum. Being a revolving line of credit, once the client has paid the lender back, those funds are then available for the client to drawdown again.
The unique features of the product is that the lender does not require real estate security, no requirements for pre-sales, nor does the lender take a charge over the stock itself, leaving the immediate title with the client; in addition to this, close to 70% of potential clients use this facility at no or very little cost.
This product best suits businesses with:
Minimum 3 years trading
Turnover of around $2m
Showing a Pre Tax Profit
Demonstrated strength in Balance sheet
As this is Inventory Finance, the business needs to be purchasing something for re-sell. This could be either raw materials that make up the finished good, or the finished good itself.
Receivables Finance is a widely-accepted means of financing cash flows, based upon the book debts of a business. Book debts are described as receivables or debtors and are located in the current assets in the balance sheet.
Receivables Finance is well suited to clients that provide credit terms to their customers by raising an invoice for goods or services provided; Under normal trading terms a client may wait 30, 60 or 90 days to receive the payment.
Receivables Finance generally is a confidential facility that enables a business to access up to 80% of their outstanding invoices within 24 hours. Depending on the size and age of the business some lenders will only look at non-confidential/disclosed facility. The remaining 20% becomes available when their customer pays the invoice.
Industries that use Receivables Finance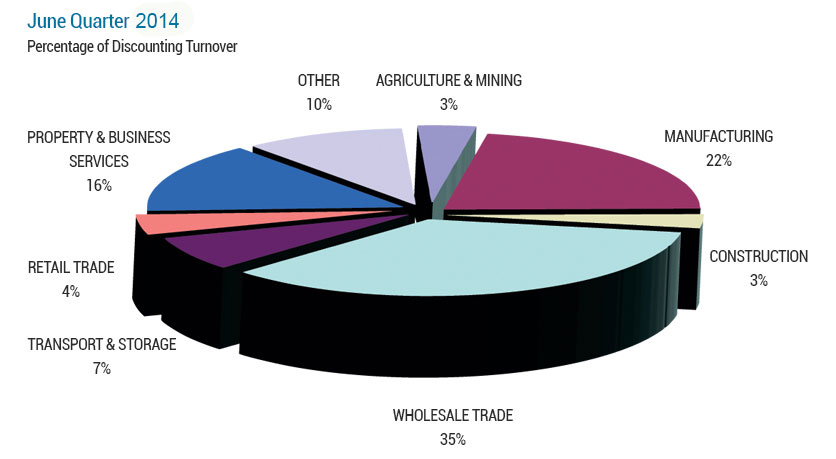 Why would a company need Receivables Finance
The business is growing
The current funding facilities are inadequate
Real-estate security is not available
Debtors are paying 30, 60 and 90 days locking up working capital
The company requires funding for a merger or acquisition
To restore cashflow after a period of high R and D expenditure
To provide certainly when preparing expenditure budgets
Pay staff wages, creditors and tax with ease
Enable the company to carry more stock or provide more services
Bank Overdraft vs. Receivable Facility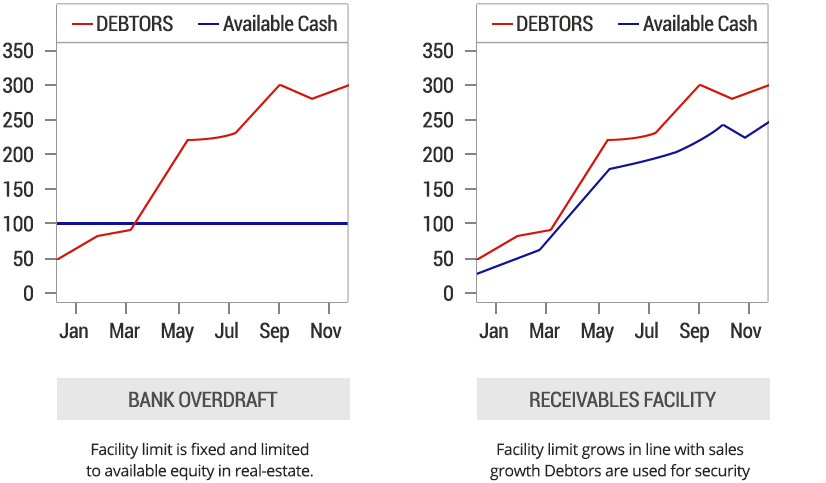 How a Receivables Finance works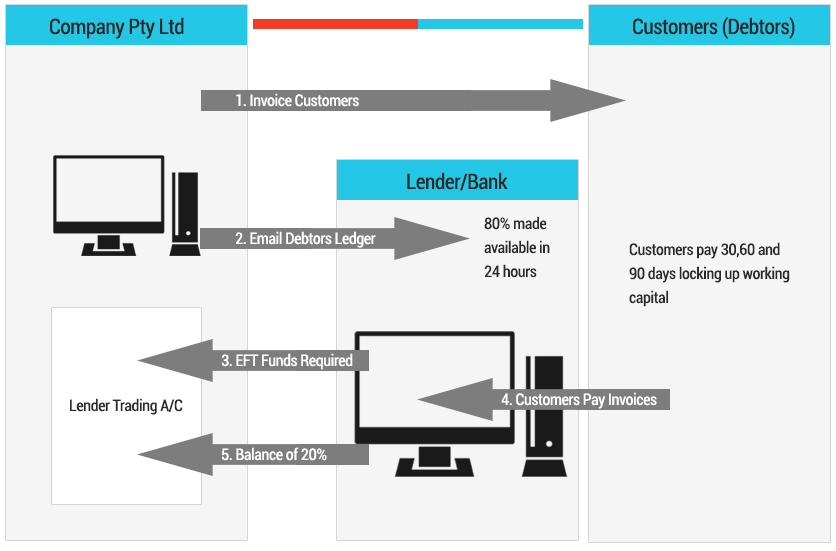 Operational Features
The facility is not disclosed to the client's customers (debtors)
Daily invoices and monthly statements are generated the client
All follow up collection activity is by the client
Debtor payments are made direct to the client or by electronic transfer to a specific undisclosed lender/bank account in the client's name
The client has direct electronic access to all facets of the account via the internet
Pricing is comparable to a bank over-draft and is based on turnover of the business and size of the debtor ledger
The Benefits
Instant cash flow
Immediate fund at your disposal
Increased working capital to generate more business
New Stock, meet new orders, marketing and promotional activity
Increased turnaround, new business opportunities etc.
Earn discounts for early payment of your suppliers
No reliance on overdraft facility
No Real Estate security needed
Availability of funds increases in line business growth
Process to set up a Receivables Facility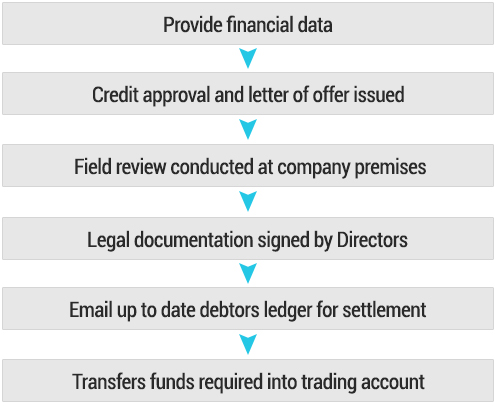 What Lender/Bank looks for in a Client
Credit sales in excess of $2m
Debtors ledger in excess of $300k
Successful performance supported by profitability and net worth
Access to take a Fixed and Floating charge over the company
Director Guarantees are normally required
Capable experienced management/Directors
Suitable debtor management and accounting systems
A clean invoice meaning no progress payments
Just goods or services sold on credit terms and payables on those terms
Summary
Key Identifiers
The business is growing up
Customers are paying 30, 60 or 90 days locking up the cash-flow
Real-estate security is not available
What process to take next
Just contact Neville Halil on 0414 441 476 or [email protected].