Free Calculators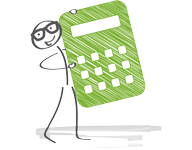 Free Calculators
Download our free loan and amortisation calculators.
I have recently become a proud owner/operator of a Sumo Salad shop in Macquarie Shopping Centre, NSW. When I had the idea of starting this business I was referred to Neville and after a couple of meetings with Neville my anxiety was significantly down because he had very clearly mapped out how he was going to help me secure the loan from the Commonwealth Bank, and he did it very professionally. We could and did phone him late at night and during weekends and he was always courteous and willing to assist. I recommend Neville to all who seek an unprecedented service and professionalism.
Neville has financed large volumes of material handling equipment for us over the years. His dedication, consistent follow-ups and, enthusiasm to get the job done quick and efficient is admirable. I have no hesitation in recommending Neville as a professional finance broker.
Easy people to talk to. I have taken two separate home loans through Global Mortgage Solutions. Communication was clear and prompt from start to the end. I am very impressed with the professionalism of Neville from Global Mortgage Solutions.
When I met Neville I owned one fast food shop and after five years of prosperous association with Neville I now own six fast food shops of which three are in the Westfield Shopping Centres in the eastern suburbs and Ryde respectively, NSW. My success today is largely based on Neville's continuous and tireless efforts in helping me with my loans and financial affairs (whether be home loans, business loans or equipment finances for my business). Neville is one of the best and, I have no hesitation in recommending him to others.
We have used Global Capital Finance Solutions to finance refrigerated commercial vans for us. The service was excellent, the turnaround very quick. Neville is a good operator, thank you.
Neville is an honest, competent Mortgage Broker whom I have personally used and have happily referred to friends and clients, all who have relayed similar assessments of him and his work. Nothing is too much trouble and he is prompt and friendly too.
We are a growing Victorian based company with a branch in Sydney. Global Capital Finance has been instrumental in assisting our NSW based operation in securing competitive equipment and vehicle finances.
Neville has recently secured a large commercial facility for us with one of the major trading banks. Neville's done an excellent job! Very happy with the outcome.
We have used Global Mortgage & Capital Finance Solutions' services over the past few years and successfully refinanced our multi-million dollar banking facilities with another major trading bank on a more competitive basis. Our banking facilities ranged from working capital, property, equipment to vehicles. It was a total refinance of cash-flow, collateral financing. The process was handled with utmost professionalism.
We have used Neville's services continuously over the past several years and Neville has secured multiple property finances for us. His kind and courteous manners and the right attitude on the job is just great.